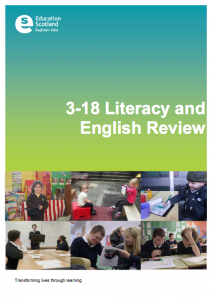 A new report from Education Scotland supports the increased use of Scots, albeit to support English literacy. Its main sections related to Scots are as follows:
4.4 Enhancing learning and achievement in literacy and English through Scots and Scottish texts
'The languages, dialects and literature of Scotland provide a rich resource for children and young people to learn about Scotland's culture, identity and language. Through engaging with a wide range of texts they will develop an appreciation of Scotland's vibrant literary and linguistic heritage and its indigenous languages and dialects. This principle suffuses the Experiences and Outcomes and it is expected that practitioners will build upon the diversity of language represented within the communities of Scotland, valuing the languages which children and young people bring to school.' (Literacy and English: principles and practice paper, p4)
Across all sectors, staff are increasingly using Scots and Scottish texts to develop children's and young people's literacy skills. The next step for many schools is to plan opportunities for children and young people to use Scots language, and Scots and Scottish texts, beyond one-off events such as for St Andrew's Day or Burns celebrations. A knowledge and understanding of Scots language and Scottish texts allows children and young people to explore and appreciate Scottish culture. Learning Scots can often improve learners' engagement in learning and their development of wider literacy skills. Through Scots, learners can explore language in more depth, making connections and comparisons with the linguistic structures and vocabularies of other languages. Scots as a context for learning can also provide an engaging platform for children and young people to explore language, register and audience. It can encourage reluctant readers and writers to become involved as texts in Scots can capture the imagination and speak to them in a familiar voice.
Scots language can be used to particularly good effect in early learning and childcare settings, encouraging the development of listening and talking skills as well as an awareness of rhythm and rhyme.
Appendix 4 Practical next steps for the development of Scots language and text
Audit current practice and provision for Scots language and text. Ask yourself such questions as:
Do we only look at Scots Language and texts within the context of one-off events suchas St Andrew's day and Burns' celebrations?
When was the last time we introduced new Scots language texts?

Have we thought about integrating Scots language and literature through interdisciplinary contexts?
Identify experiences and outcomes that could be delivered and achieved through the context of Scots Language and literature.
• This exercise will reassure both practitioners and parents as it will clearly illustrate the place of Scots language and literature within Curriculum for Excellence. Remember that as well as literacy, other areas of the curriculum have experiences and outcomes well suited to a Scots language context: for example, but not exclusively, expressive arts and health and wellbeing.
Investigate contemporary Scots language texts that could be used in your setting.
• The Scottish Book Trust Scots Language Book Lists are a good place to start. Create a coherent progression of skills plan for Scots language.
• Practitioner confidence can be enhanced through this kind of exercise.
Develop a specific Scots language and literature policy, or include a Scots section in your existing literacy policy as appropriate.
• This will be useful to demonstrate the equal status that Scots enjoys alongside English and Gaelic.
Consider whether incorporating Scots into your 1 + 2 programme would be appropriate.
• Some Local Authorities may wish their primary schools to explore the possibility of Scots language as L3.
Consider whether engaging with the SQA Scots Language Award would be appropriate for your setting.
• Remember that these flexible units can be delivered by subjects such as English, languages, history, geography or music – individually or as an interdisciplinary approach.
Remember to keep spelling approaches consistent for written work in Scots.
• If in doubt, remember you can always check with the Scots Language Dictionary – but bear in mind that there may be regional differences.
Consider partnering with a Scots Language Ambassador.
• The scheme encourages a partnership between schools and confident Scots speakers. This could really help to enhance the status of Scots in your school or cluster. For details contact the Scots Language Co-ordinators.
Introduce a Scots word of the week.
• This is an easy way to set the ball rolling and have learners and practitioners begin to discuss Scots and its use.
Contact your Scots Language Co-ordinator.
• Your Literacy QIO should be able to put you in touch with the member of the team linked to your authority.