Interestin debate ower on FB aboot the spellin in "Trainspotting", stairtit aff by Thomas Widmann.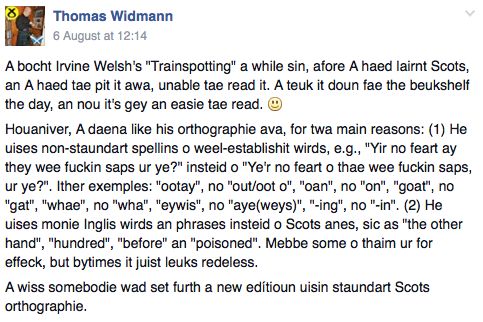 Ma ain thocht is thon is mair nor deleebrit. Whit Welsh an Kelman an the like want tae pit ower is a kinna feral oral langage, faur ootwi formal English an syne meant tae be mair "authentic" an "rael". Noo, by ma wey o't Trainspottin is aften in jist normal-like Scots (or a Scots/English mixter). By awnin tae that tho wid awn that the speakers wis pairt-an-paircel o a langstaunin social an oral tradeetion an aw an no jist a pauchle o disjaskit, disconnectit druggies an drunkies haven awa in brakken-doon English.
Charlotte Lunn I think putting it in "standard" orthography would ruin the effect slightly. I think it was meant to give you a distinct impression of working-class Edinburgh/Leith speech rather than being "literature in Scots".
Sto Osh Phonetics play a big part in Irvine Welsh. Slang in any language is non-standard. This is no different.
Me: Brekkin the linguistic cleek (an there is ane) atween poets from Ayrshire an the embro junkies cud be seen as kinna unhonest an ideological an aw tho. A'm no a muckle fan o pseudo-phonetics tho a ken monie fowk here are.
Thomas Widmann A think ae problem is that monie (maist) fowks daena ken hou tae pronounce Scots. Thay think 'o' maun mean /o/ whan i the Central Belt it's /e/ — in ither wirds thair's nae need for Welsh tae write 'ay' insteid o 'o'. Whether ye write "Yir no feart ay they wee fuckin saps ur ye?" or "Ye'r no feart o thae wee fuckin saps, ur ye?" is a quaisten o orthographie — in Embra the pronunciation is identical. 
Sto Osh There's sic a thing as owre-analysin. This is a slang o a leid an literary jiggerypokery an a. It's no aboot Scots, mair aboot the variation o Scots.
Derrick McClure He's no screivin in Stannart Scots! He's screivin in Embra sheuch-clatter (Anglice "gutter-talk").
Me: Interestin, tho, we get in a fankle about whither Welsh shud(na) yaise Scots spellins, but dinnae seem ti gie a docken aboot him yaisin English orthographies that tae ma lugs, onieweys (an A wis born in Embro), is faur mair "aff" the local ways o speakin than the Scots anes.
Sto Osh Welsh's dialect's not in standard orthographic Scots. At school, we were belted for speaking it & he's not decrying that. As I pointed out above, TS is a work of fiction & the highly personalised characters using a DIALECT of a language, in much the same way English authors use English dialects.
Me: Ma pynt is it aften TS langage *is* the Scots o the dictionar, but the makkit-up spellins kinna kid on its no. Sae ye cud sey fowk *speak* a dialeck o Scots (in a mixter, shuir) but is *representit* on the page like it is jist a dialeck o English (i.e. by ignorin/rejectin its Scot ruits an yaisin English spellins whaur a Scots orthographie wid in fack be muckle mair "accurate").
The langage yaised in ane o the maist kenspeckle an muckle-sellin buiks in the modren Scottish canon is shuirlie kinna interestin, is it no? Masel A'v nivver seen onie discussion o't fae a Scots-language viewpoint.
BTW a rare wee airticle anent the Welsh's yiss o dialeck fae ane o thr lecturers whaur A wark.