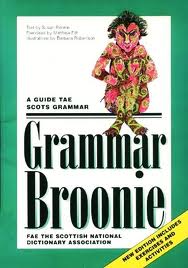 Grammar is the glue that holds any language together and is made up of the rules that make our speech and writing comprehensible to others. Although native speakers of a language usually have an instinctive feel for these structures, learners usually need some formal presentation. In the case of Scots, however, even fairly fluent native speakers are likely to be unaware of the language patterns they are using.
It is only when these are written down can it be appreciated how rich Scots grammar is, how it differs often quite markedly from standard and colloquial English and how the forms used today often derive directly from older Scots usage. Given the status of Scots as a primarily spoken tongue, many researchers report a loss of distinct grammatical forms due to convergence with English, but what is really astonishing is how much remains.
Until about 15 years ago anyone wanting to find out about Scots grammar had an uphill task. Only two comprehensive grammars had been published; James Wilson's largely forgotten study Lowland Scotch based on interviews with inhabitants of the Perthshire village of Dunning, published in 1915 and William Grant and James Main Dixon's 1921 classic Manual of Modern Scots centred on the literary language. Both these essentially 'descriptive' grammars were out of print for decades – though can now be ordered as reprints from Amazon.
However from the late 90s there was a comparative avalanche of Scots 'prescriptive' grammars, aiming to set out rules of usage. David Purves' booklet A Scots Grammar was published in 1997; about the same time as Andy Eagle's Wir Ain Tung, essentially a reworking of Grant and Dixon, appeared on the web. Also in 1997 Philip Robinson produced the masterly Ulster-Scots – a grammar of the traditional and spoken language, again something of a homage to Grant and Dixon. These reference works were joined in 1999 by Susan Rennie's Grammar Broonie, a workbook aimed at young learners and in 2002 by L Colin Wilson's Luath Scots Language Learner, the first-ever Scots language course for the complete novice with extensive sections on grammar. Alexander Bergs also published Modern Scots in 2001, a detailed review of literature which essentially updates Grant and Dixon based on more recent sociolinguistic research, providing us the most definitive descriptive grammar of Scots to date.
It should be noted that Scots being a primarily oral language there is a very close link between descriptive works like Grant and Dixon and Bergs and prescriptive texts. This has been less true of English where prescriptive grammars dominated until comparatively recently when English 'corpus' grammars based on databases of actual usage appeared.
As David Purves reminded us in 2002 "in any language revival, an essential stage is the fixing of standards amongst the welter of variation that is always found in the untended garden of natural speech". So far no 'official' body has emerged in Scotland to 'fix standards' but the publications above provide the next best thing; a remarkably consistent description by language scholars of how the core grammar of Scots currently functions. This is as close as we currently have to 'standard'. The somewhat overstated dialectical variation in Scots pronunciation and vocabulary Purves alludes to does not seem to extend to grammar.
The Scots Haunbuik Scots Grammar will be published here very soon.
More resources

The The Aiberden Univairsitie's Scots Leid Quorum's Innin Ti the Scots Leid (1995) is a useful 44 page booklet and where I started with the grammar of Scots. Strong on spelling and of course grammar with some useful vocabulary lists.
Alexander Bergs (2001) Modern Scots draws together a wide range of 20th century research on the modern tongue to provide the best detailed descriptive grammar of current usage.
Andy Eagle (2002) Wir Ain Leid [http://www.scots-online.org/grammar/] An extensive re-working and up-dating of Grant and Dixon and currently the most comprehensive work on Scots grammar currently available. Particularly strong on dialects.
William Grant and James Main Dixon (1921) Manual of Modern Scots. A superb attempt to describe a standard 'literary' Scots based on contemporary East Central speech and (mainly) 19th Century literature. The wide range of sources include 'Kailyard' writers (eg Barrie, Crockett, Maclaren), Bell (see below), Burns, Scott and Stevenson as well as local papers and 'reminiscences'. Available as a reprint from Amazon.co.uk
David Purves (2002) A Scots Grammar (Revised Edition) published by the Saltire Society, Edinburgh is as close as we have to an 'official' grammar for standard Scots. Lots of examples.
Susan Rennie and others (1999) Grammar Broonie published by Polygon, Edinburgh is aimed at children (and their teachers) and is a basic introduction, with exercises.
Philip Robinson (1997) Ulster-Scots: A Grammar of the Traditional Written and Spoken Language, published by The Ullans Press, Belfast. Outstanding scholarship; a re-writing Grant and Dixon for the Ulster dialect.
L Colin Wilson (2002) Luath Scots Language Learner published by Luath Press, Edinburgh, the first Scots language course for the complete novice , has excellent sections on grammar.
Wilson, James (1915) Lowland Scotch Meticulous investigation of the speech of the Perthshire village of Dunning (where I used to live!): pronunciation, grammar, wordlists, sayings, idioms, expressions. Legend has it this was the book that inspired Hugh MacDiarmid to start screivin awa in Scots, and I'm not surprised. Available as a reprint from Amazon.co.uk
The Concise English-Scots Dictionary (1993) and its companion Essential Scots Dictionary (1996) from The Scottish National Dictionary Association and published by Chambers, Edinburgh are the best prescriptive dictionaries available and were used to attempt a standardised spelling for this grammar.