A Halloween neepie lantren. 
Whan A wis a bairn, made these iverrrie year.
An och, the smell o the neep tap burnin bleck wi the heat frae the cannle …
You smell that? Do you smell that? Neepie, son.

Nothing else in the world smells like that. I love the smell of neepie in the evenin.
Nane o that pumpkin nonsense.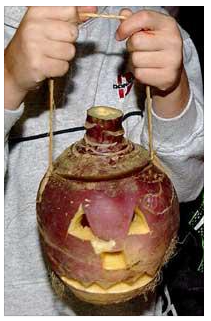 An a wee poem via Mairi McFadyen on FB.
Here's the poem for guising I had down pat when I was wee.
It's called 'A Spell fur Guisers':

Tak a tumshie, muckle, roon
(Best pu' it by a bricht hairst mune),
Trim aff the ruits o't, hingin doon,
Syne slice it richt ablow the croon.
Hack oot the harnes, scartoot the chowks,
Richt tae the skin ye'll hae tae howk,
As thin's ye daur, till licht is seen,
Syne cut twa slits in it fur een.

Pike oot a neb, an grinnin mou
(Mak shair it disna look lik you!).
Tae feenish aff its ugly mug,
Gie it twa sickle-munes fur lugs.

Tie string aboot the lug-holes there,
An cut some starns on it fur hair.
Noo in this skull ye set a licht –
a freen an ferlie this daurk nicht.

Ian McFadyen