Edit 04/02/2021 An this wis the ootcome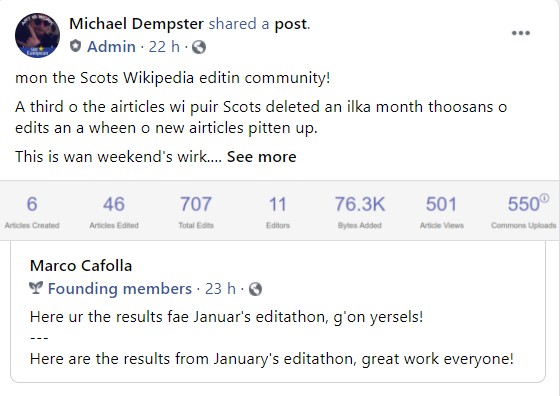 An American teenager – who does not speak Scots – was revealed as responsible for almost half of the entries on the Scots language version of Wikipedia. He began posting articles around 2008 when they were 12 years old and continued doing so until 2018 until they had written some 20,000 articles in 'Scots'. A Reddit user Ultach pointed the poor linguistic quality. "The entries in question do little more than substitute occasional, and often wrongly spelled, Scots words into English grammatical constructions. As a result, the project often inadvertently ends up being used to bolster arguments that Scots is not a language in its own right". "This is going to sound incredibly hyperbolic and hysterical," wrote Ultach, "but I think this person has possibly done more damage to the Scots language than anyone else in history. They engaged in cultural vandalism on a hitherto unprecedented scale."
Following a muckle debate, the Scots community rallied round for a Big Wiki Rewrite. "It was soon discovered that there is a strong desire by many in the Scots-speaking community to come forward and help in a constructive way. In fact, over 100 individuals, many of them Scots speakers, have now offered to rewrite the Wikipedia entries in actual Scots while others have also offered to advise with non-linguistic aspects. Michael Dempster also recently contacted Wikipedia and has now helped to create a community support group for editing and rewriting the Wikipedia entries in Scots. If you would like to learn more about the project, or would like to help in some way, please drop the SLC a line and we can put you in contact with the support group".
See also:
The lesson is that Scots Wikipedia was undervalued. Not everyone sees their minority language Wikipedia in the same way.
Researchers wanted to move beyond looking at just Scots words and sounds and instead explore sentence construction in various parts of Scotland. This part of a language is called its syntax, and, according to Prof Jennifer Smith, the principal investigator, it's one of the most creative aspects of how people use language. You can explore the Scots Syntax Atlas and listen to different varieties of Scots. There is even a video tour, example below.