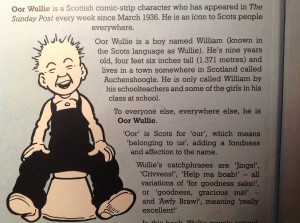 As explained in an earlier post "The Broons" and "Oor Wullie" comic strips, published weekly in The Sunday Post newspaper are significant icons of Scottish popular culture, stretching back some 70 years.
The most distinctive feature of both comic strips is the use of Scottish vernacular language. For many people including me these Dundee-based comics were the only written forms of Scots we ever saw.
There is something significant therefore in the way the publisher DC Thomson refers to "the Scots language" here in the book "Whaur's Oor Wullie", published last year.